Five Favorites from NEDS to Have Delivered to Your Boat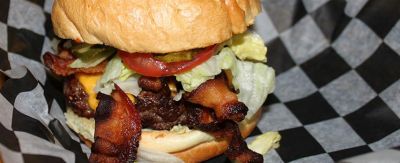 After a long, lazy day on the lake, nothing wraps the day up like an easy, hearty meal. Whether you're looking to fill up before heading home or you just need a little snack to tide you over, North End Deli & Spirits has all of the savory and sweet treats that you need to put a bow on the perfect day. In this post, we're going to look at five of our favorite – and most popular – dockside delivery items.
Smokehouse BBQ Burger
This massive, half-pound Angus beef burger is topped with bacon, cheese and our made-from-scratch barbecue sauce. A little sweet, a little savory and a little smoky, the Smokehouse burger is sure to hit the spot!
New York Meatball Pizza
A handcrafted, thin crust pizza topped with smoked provolone cheese and Italian meatballs, mushrooms and red onions, the New York Meatball Pizza is a fitting – and filling – way to wrap up a day on the water.
Philly Dip Grinder
Roast beef and Swiss cheese topped with your choice of mushrooms, onions and peppers, the Philly Dip is one of our most popular grinders.
Smoked Chicken Wings
Part of our Sunday barbecue menu, our homemade smoked chicken wings are legendary! Slow smoked and topped with your choice of sauces, they're a great way to tide yourself over until dinner.
A Nice, Cold Beer
What better way to wrap up the day than with a refreshing, ice cold beer? With a constantly rotating selection of popular – and craft – beers available, you don't need to stop relaxing just because you've docked your boat!
At North End Deli & Spirits, we pride ourselves on offering an impressive assortment of fresh, homemade foods and drinks. From our awesome Sunday barbecue to our carefully curated beer list, we want all of our customers to have a convenient, stress-free way to wind down after bringing their boat to shore. If you're looking for a great way to end a great day, be sure to contact us next time you're nearby and let us deliver dinner right to your boat!