The Beginning of NEDS 2.0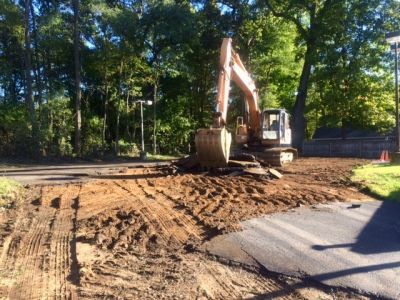 As most of you may know, we have begun construction for NEDS 2.0! This is a project we are very excited about. We've been talking about it for a while, but as of October 20, 2018, we are proud to say we FINALLY put it into action!
NEDS 2.0 will be located right behind the current NEDS, and we will be open during construction! The foundation hole has been dug out over the past week since the first excavation began. We expect the foundation footings to be put in sometime next week. After that's done, the next step is to install the subsurface mechanical pieces to begin erecting the walls. Right now, we project to have the walls and roof completed by the beginning of December! After that, the next focus will be on interior work, which the crew is planning to begin once the cold weather rolls in.
NEDS 2.0 will be double the size inside & outside with an upstairs deck! There will be a dining room with a separate bar area, and now TWO patios. We are increasing the size of our kitchen to better accommodate our growing demand. We very much appreciate your patience in the past when you've had to wait longer than normal for your food!
We plan to have NEDS 2.0 COMPLETED by late April, and to begin occupying it by May 15th! When there are more updates available on our progress, we will be sure to let you all kow. But in the meantime, enjoy the last few months of the original NEDS before it's gone!