NEDS 2.0 UPDATE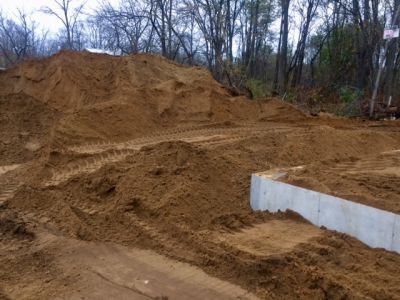 We want to make sure we keep our NEDS family up-to-date on the NEDS 2.0 progress. In the last blog, you found out that the foundation hole had been dug and the foundation footings were expected to be put in. The foundation footings were put in since then and the foundation walls have been poured! We still project to have the walls and roof fully completed by December, and then the crew will begin interior work.
The foundation is currently being backfilled, meaning the mounds of dirt are moving again! The crew is filling around all the concrete foundation as we speak, which will result in the dirt being packed down. Once that's done, our team can start working on putting in the under-floor plumbing and various electrical items before the floor is poured. The walls will be going up after all this is finished!
Just a reminder that WE ARE OPEN during construction and have plenty of food & drink specials to enjoy! We have switched up our taps- proudly featuring a Tiramisu Stout by Ellison Brewery, Grand Mimosa by Ciderboys, Country Strong IPA by The Mitten Brewing Co., Coconut Porter by Paw Paw Brewing Company & Two-Hearted by Bell's Brewery! Our pickle pizza has been a crowd favorite and is only available until November 22nd, so get it while you can. We're offering $5 glasses of wine (house or bottle, red or white), $3 glasses of sangria and $3 fall beers (12oz. bottle or can) this fall only!
We hope you are all as excited as we are for NEDS 2.0. We promise to keep up updated on our Facebook page and with our blog posts, but feel free to come by and see for yourself!