St. Patty's, Spring Specials & Building Updates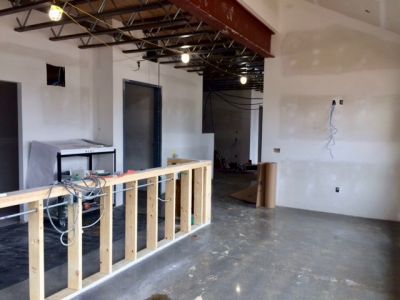 Hi all!
We know it's been a while since you've had a NEDS 2.0 update, so we figured we'd bring you up to speed on everything! Let's talk about our specials before we get into all that. In honor of St. Patrick, today (March 16th) and tomorrow (March 17th) enjoy $2 Killian's Red and Bud Light pints, as well as a smoked corned beef brisket plate with cabbage, carrots & potatoes for only $10.
Until Easter, you can get a 1/3lb burger on a brioche bun for $6.99. We're offering beer battered fish with fries or tots for $7.99 and beer battered shrimp with fries or tots for $8.99! This is offered every day until Easter, especially for those of you who can't eat meat on Fridays :) To top it all off, we have desserts- try a homemade cinnamon roll or double chocolate brownie topped with a scoop of Ashby's vanilla ice cream. You have the choice of chocolate or caramel syrup & whipped cream, yumm!
Last we updated you on the blog, we had just gotten our walls up! Well much has happened since then. The building is looking pretty solid on the outside & inside! Currently, the exterior window trim is going on, the interior drywall is complete and waiting for priming and the concrete floors of the restaurant have been polished. The bar area is configured and the new wood bar top will arrive by this coming Tuesday (how exciting!). Next on the list is the exterior siding, which is expected to be started next week, as well as the interior painting.
We also have new NEDS gear in the restaurant as well as available for order! Please ask your server next time you're in if you want to rock some NEDS apparel.