Long Day on the Lake? Kick Back and Relax with Dockside Delivery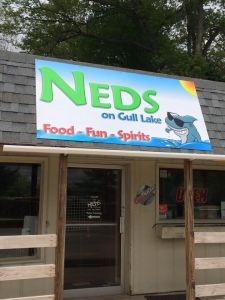 Just wrapped up the perfect afternoon on the lake and looking to unwind in the most relaxing way possible? NEDS has you covered! With our dockside delivery, you can feed the whole family without having to set foot on dry land. Our menu is constantly refined as we work to find the best and freshest foods available for our lakeside clientele. Let's take a look at some of our favorites…
Jalapeno-Breaded Green Beans
When you want a little comfort food with a spicy kick, nothing hits the spot like our jalapeno breaded green beans.
Create Your Own Pizza
Got a whole family to feed? Try an 18" pizza baked fresh with the toppings of your choice. From pepperoni and meatballs, to artichokes and banana peppers, we've got something for everybody.
Sunday Barbecue
Nothing satisfies a hungry stomach quite like barbecue! We've got brisket sandwiches, deep fried sweet corn and of course, homemade ribs.
What's a hearty meal without a cool beverage to wash it down? With over fifty different beers and a selection of mixed drinks limited only by the imagination, we can turn an afternoon of unwinding into an evening of fun. On top of that, with our mix and match six packs, you and your friends can take your pick from our massive selection of micro and craft beers.
At North End Deli & Spirits, we aim to provide the freshest foods in the most comfortable environment. Whether that environment is our laid back dining room or your own personal water bound sanctuary, we're able to provide. So if you've been looking a way to cap off a perfect day on the lake, give us a call and let us know what you need… we'll bring it right to you!